Chihayafuru Blu-Ray Vol. 09 is the ninth Blu-Ray in the Anime-Adaption of the Chihayafuru Manga.This Blu-Ray entails two Episodes.
Episodes
Extras
16:9 (1080i High-Definition)
Original Illustration Card
Character Design
Special Drama-CD: "Chihayafuru, Past and Present Story (Part 2)"
Chipboard art box for all nine Volumes: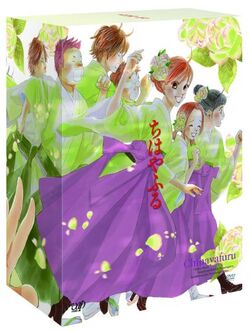 Ad blocker interference detected!
Wikia is a free-to-use site that makes money from advertising. We have a modified experience for viewers using ad blockers

Wikia is not accessible if you've made further modifications. Remove the custom ad blocker rule(s) and the page will load as expected.