This is a list of places in Chihayafuru.
Introduction
Chihayafuru is set in west suburban area of Tokyo, estimated Fuchū City.
City Facilities
East Ōsato Elementary School
Katamichi Culture Hall (Training base of Shiranami Karuta Society)
Bubaigawara Station
Bunkyō City Otsuka Karuta Memorial Hall
Outside Tokyo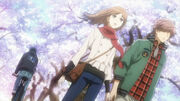 Omi Jingu Shrine (Shiga Prefecture)

Omi Jingu Learning Center

Shirayama Hime Shrine (Ishikawa Prefecture)
Fujisaki Highschool (Shizuoka Prefecture)

Fukuoka (Training base of Fujisaki Highschool)

Yoshino Karuta Society
Kyoto

Kyoto Station
Kiyomizu Temple
Kinkaku-ji / Rokuon-ji
Nin'na-ji Temple
Arashiyama
Palace of the Hundred Poets (Shigureden Theme Park)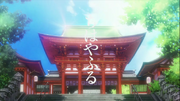 Ad blocker interference detected!
Wikia is a free-to-use site that makes money from advertising. We have a modified experience for viewers using ad blockers

Wikia is not accessible if you've made further modifications. Remove the custom ad blocker rule(s) and the page will load as expected.