Oe Traditional Clothing Shop


Vital statistics
Name
Oe Traditional Clothing Shop
Type
Clothing Shop
First Appearance
Episode 6
Oe Traditional Clothing Shop (呉服の大江, Gofuku No Ōe) is a clothing shop owned by the Oe family. The shop has been in the Oe family for generations.
Employees
Synopsis
According to Kana-chan, they could only sell cheap yukatas instead of the more expensive formal kimonos. The shop's business had been so bad that they could not afford a model for next year's catalog. When Chihaya convinced her to join, she agreed on the conditions that Chihaya would be their model, and that all the club members wear hakamas during matches. They could rent out the hakama if the members don't have their own. later on, the store's catalogs became available during the Tokyo regionals for the National High School Karuta Championship.
Rieko Oe said later on that sales have shot up since Mizusawa's karuta club began wearing hakamas in their matches.[1]
Oe Traditional Clothing Shop also has lessons on how to wear hakama, and now offers a new line of cotton hakama for competitive karuta.
Trivia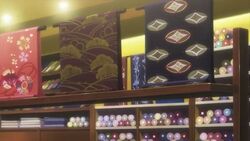 Gofuku is a formal word for Kimono. Basically, a gofuku shop sells only kimonos. Although some gofuku shops sell only high-class, expensive kimonos, others sell the more affordable ready-to-wear kimonos as well.
They also display fabrics in the shop. Despite its complicated shape, a kimono is made from only one bolt, or tan, of fabric.
Gofuku shops in general are kimono specialists; some privately owned shops have a long business history and have a deep knowledge of kimonos.
References
Ad blocker interference detected!
Wikia is a free-to-use site that makes money from advertising. We have a modified experience for viewers using ad blockers

Wikia is not accessible if you've made further modifications. Remove the custom ad blocker rule(s) and the page will load as expected.