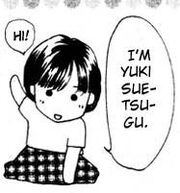 Yuki Suetsugu
(末次由紀 Suetsugu Yuki) is a Japanese manga artist most known for her manga
Chihayafuru
, published by Kodansha. The series is now adapted into an anime. She debuted in 1992 in Kodansha's Nakayoshi magazine with Taiyō no Romance. Her works later moved to Bessatsu Friend magazine, also published by Kodansha.
Background
She was born on September 8, 1975. Her career was put on hiatus after she was discovered of being accountable for plagiarism, including tracing. She later resumed her work on March 2007. She won Manga Taisho Award 2009 for Chihayafuru manga. However she declined to attend the award ceremony, claiming that she needed more effort to make up for her past mistake and to repay who helped her for resuming.
Major works
Kimi no Shiroi Hane (君の白い羽根)
Kimi no Kuroi Hane (君の黒い羽根)
Flower of Eden (エデンの花)-(canceled because of plagiarism)
100% no Kimi (100%の君へ)
Kimi wa Boku no Kagayakeru Hoshi (君は僕の輝ける星)
Kono mune no Sunao (この胸の素直)
Kimi no Tame no Nani mo Kamo (君のための何もかも)
Promise
Only You
Itoshii Kimi (いとしいキミ)
Silver-(canceled because of plagiarism)
External links
Ad blocker interference detected!
Wikia is a free-to-use site that makes money from advertising. We have a modified experience for viewers using ad blockers

Wikia is not accessible if you've made further modifications. Remove the custom ad blocker rule(s) and the page will load as expected.