Yusei Nishida
Kanji

西田優征

Rōmaji

Nishida Yūsei

Characteristics

Gender

Male

Birthday

November 29

Age

15

Professional Status

Occupation

Student

Personal Status

Status

Alive

Relatives

Yukari Nishida (sister)

Karuta

Group

Mizusawa High School Karuta Club
Suihoku Karuta Society

Level

Class A

First Appearance

Manga Debut
Anime Debut

Portrayal

Japanese Voice
Image Gallery
Yusei Nishida is a member of the karuta club that Chihaya created. He has been shown to be good at karuta. He is the current president of the Mizusawa karuta club.
Appearance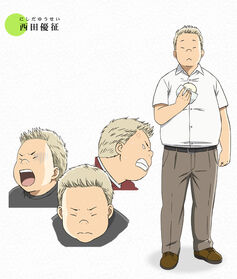 Nishida is chubby, and has short, sandy blond hair. He usually has his eyes shut. He wears his school uniform most of the time. Also, he wears plain t-shirts and jeans when he isn't at school. During special tournaments and matches, he wears hakamas that the Ōe Traditional Clothing Shop lets the karuta club borrow.
Personality
Yusei is quite competitive. Despite his aggressive personality and tough attitude, he is loyal to his friends, especially when he's played with them as a team. Both traits show when he gives playing tips to Chihaya and the others. He also really loves pork dumplings.
Relationships
During his childhood, Arata was Yusei's most notable rival. After losing to him, Yusei stopped playing karuta and turned to tennis.
She and Yusei met as kids in Shiranami Karuta Society's headquarters; they had a 3-on-3 match against each other. According to Taichi, Chihaya and Yusei seem to be pretty much on par at karuta. She calls him Nikuman-kun (Meat Bun Guy) which really annoys him at first. For him, she is the group's airhead, and changing her behavior is out of character for her.
Yusei respects Taichi greatly as the karuta club's president. He is the only one who calls Yusei by his (family) name.
He calls Tsutomu Desk-kun (Tsukue-kun). He considers Tsutomu as part of the main team, and didn't like it when he let Tsukuba take his place as the starting member for the group tournament so he and Sumire could spy on the other teams.
Yukari is his big sister who is currently Hyoro's girlfriend. He gets annoyed when she supports Hokuo Academy instead of Mizusawa.
History
He was in a competition against Arata in grade school, but lost to him and got second place. In the anime, it is shown that after losing to Arata, he stopped playing karuta as he no longer won, and joined the tennis club instead as a substitute.
Synopsis
Quotes
(To himself) "Tennis can never replace karuta!"
Trivia
Chihaya refers to him as Nikuman-kun which means Meat Bun or Porky.
Nishida was extremely shocked when he found his sister is dating Retro-kun.
He has been playing karuta since he was 5 years old. In Chapter 12, he says he has a playing history of 10 years.
In the manga, Nishida joins the Mizushima karuta club before Komano.